UPDATE: Katalina has contacted her family and says she's safe, although she's not home yet, according to this news story:
http://www2.madison-news.com/news/2011/may/16/katalina-phones-home-still-missing-ar-1042974/
Thanks be to God.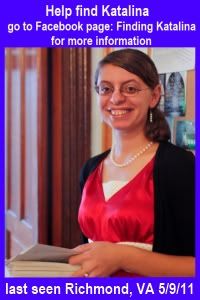 Thoughts and prayers are with the family and friends of Katalina Mikitarian, 21, missing since May 9th. Today, her family and others are traveling to the Charlottesville,Virginia area to hand out missing fliers.
This is the unimaginable 'worst nightmare' for any of parent...your child is missing.
There is a
Facebook page
to help spread the word, and this blogger
D.L. Diener
has a badge code that you can post on your blog to spread the word,too. Here is a downloadable
PDF file
with a flyer.
Here's an article from the Charlottesville Daily Progress
Missing woman may have come through Charlottesville
If you have information? some phone numbers are listed on this flyer